Closed Die Forgings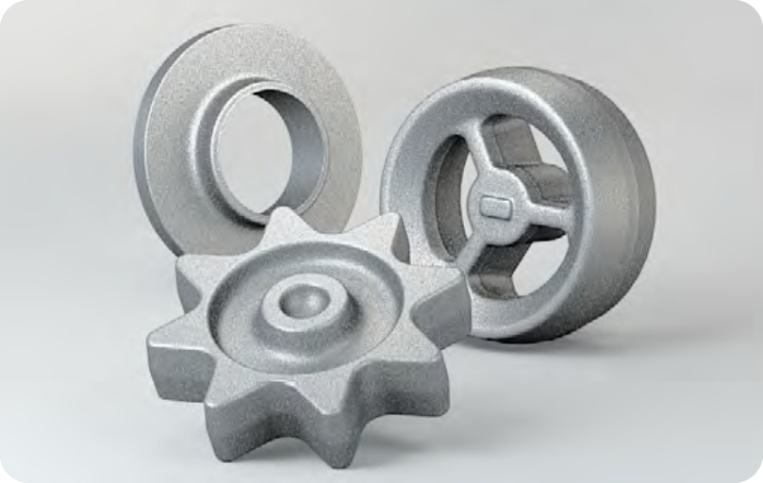 There is a wide assortment of stampings. 
The diameter may be up to 460 mm, the weight may be up to 300 kg. 
There is stock reserve. 
We have got own die tooling.
Manufacturing of die tooling is made at the supplier's expense.
die forging equipment
Equipment 
Weight of driver assembly, ton
Maximum weight of stampings, kg

Air-and-steam stamping hammers

2
3
3
16
6
90
Hydraulic presses
Power:  450 ton-force
300
Power:  700 ton-force
CONSUMERS
Manufacturers of oil-and-gas and petrochemical equipment.

Military industry and aviation.

Producers of power equipment.

Tractor manufacturers, agricultural machines manufacturers.

Mechanical engineering companies.

Manufacturers of mining machinery.
The company has got production facilities and technologies enabling to produce forged pieces for aviation purposes, stampings for military purposes without acceptance by the customer's representative. 
"Motovilikha" has got the possibility to stamp items from the customer's raw materials, including stainless and heat-resistant grades of steel. 
Nomenclature of CLOSED DIE FORGINGS
Type of stampings 
Dimensions, mm
Weight, kg 
Stamped flange workpiece as per GOST 12821-80; 12820-80
Diameters up to: 460;
height up to: 590

0,15 – 90 kg if made on stamping hammers 





5 – 300 kg if made on hydraulic presses

Parts of shut-off valves

S

tep-shaped shaft

s

Gear wheel
Pinions
Discs 
Rings 
Star gears 
Bushings, track links
Half-finished fasteners as per GOST 7798; 7796; 5915
Pulling hooks 
Other parts 
Nomenclature of Steel Grades  

| Steel types  | Grades |
| --- | --- |
| Construction carbon steel | 10-70, ОС and others |
| Construction low-alloyed  steel | 09Г2С, 10ХСНД, 15ГС, 65Г, 17Г1С and others |
| Construction alloyed  steel | 40Х, 20Г, 30ХГСА, 30ХМА, 38ХМ, 40ХМФА, 40ХГМА, 38ХГН, 12Х1МФ, 15Х1М1Ф, 24ХМ1Ф, 25Х1МФ, 25Х2М1Ф, 40ХН, 40ХН2МА, 38Х2Н2МА, 38ХН3МА, 38ХН3МФА, 38ХС, 12ХН3А, 12Х2Н4А and others |
| Stainless steel | 08-12Х18Н10Т, 20Х13, 30Х13 and others |
Types of ready-made stampings  

Catalog Metallurgical products download
Back to section