Forgings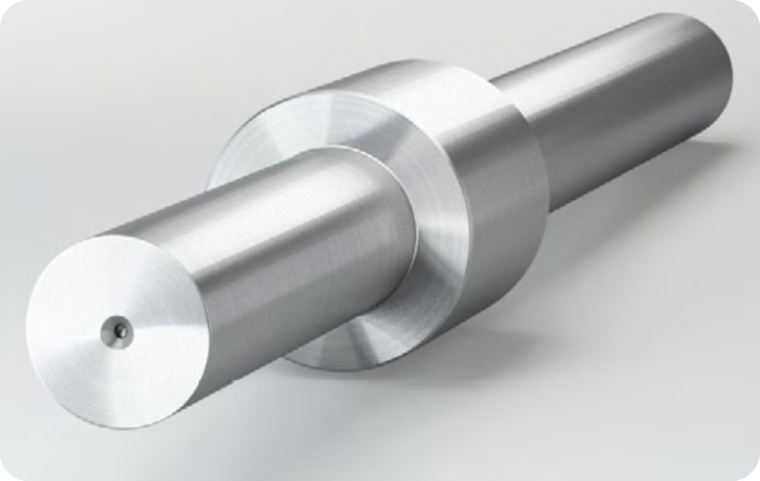 There are more than 200 steel grades including tool steel, stainless steel, heat resistant steel.
There is a variety of configurations of forged pieces.
The diameter of shafts is up to 800 mm, the diameter of rings is up to 2 000 mm, the length is up to 10 000 mm. 
The weight of forged pieces is up to12 500 kg. 
The unique properties are obtained by use of  electroslag remelting.
We accept orders even for 1 forged piece.
press forging equpment
Equipment name 
Power, ton-force 
Maximum weight of forged pieces, kg
Hydraulic presses
3 000
12 500
2 000
6 000
1 500
4 000
Air-and-steam forging hammers
3 ton Drop section 
75
5 ton Drop section 
2 000
Radial forging machine
Power per one striker is 1 000 ton-force
4 000
Straightening press
1 000
1 600
Production facilities of the company allow to manufacture forged pieces with an accuracy of ± 1 mm and minimum allowances. The company has got a fleet of equipment for all types of machining and heat treatment including equipment for workpieces with large length and big diameters. There is a possibility to manufacture customized products against the individual orders and specific requirements. 
Every year "Motovilikha" starts mass production of 2 or 3 new products and simultaneously the new steel grades are involved into production. 
CONSUMERS
Manufacturers og oil-and-gas and petrochemical equipment.

Military industry.

Manufacturers of mining machinery.

Manufacturers of railway equipment.

Ship builders.

Mechanical engineering companies.

Steel service centers.

Producers of power equipment.

Aviation industry.

Pipe mills.
Nomenclature of Forged Pieces  

Blackwork 

Types of forged pieces 

Dimensions, mm

Weight, kg

Machined forged pieces 
Smooth shafts of circular and square section 
Diameter (square side): 170 – 800;Length: 1 500 – 10 000 

300 - 12 500





Variable section shafts 

Diameter: 220 – 700; Length up to: 5 000 
400 – 8 300

Discs

and

pierced

discs

Diameter: 500 – 2 000; Inner diameter: 150 – 350
350 – 8 000
Cubes 
Side: 400 – 1 000
up to 8 000
Pierced cylinders 
Diameter: 350 – 850; Wall thickness from: 100 
up to 4 000
Plates 
Thickness: 130 – 250; Length: 1 000 – 4 500 

up to 12 500
Rolled rings
Outer diameter up to: 2 000; Height: 170 – 800; Wall thickness from: 130
350 – 8 000
Mushroom shaped forged pieces
Diameter: 600 – 1 100; Rod diameter: 170 – 700; Height up to: 600 
up to 3 500
Nomenclature of Steel Grades 

Steel type 

Steel grades as per RF standards 

Steel grades as per foreign standards 

Construction carbon steel 

10-70,

ОС

, 22

К

-

Ш

and others

СК45, СК60, St52.3, 080М40, 070M20, AISI 1018, AISI 1045 

and others

Construction low-alloyed  steel 

09Г2С, 10ХСНД, 15ГС, 65Г 

and others

S355J2, 42CrMo4, 25CrMo4, 34CrNiMo6, 36CrNiMo4, 51CrV4, 16MnCr5, 18CrNiMo5, 18СrMo4, 39NiCrMo3, 56NiCrMoV7, AISI 4140, AISI4145, AISI4340, 1.2379, 1.2343, 1.2344 

and others

Construction alloyed  steel

40Х, 20Г, 20Х2Н4А, 30ХГСА, 30ХМА, 35ХМ, 3

8ХМ, 40ХМФА, 40ХГМА, 38ХГН, 12Х1МФ, 15Х1М1Ф, 24ХМ1Ф, 25Х1МФ, 25Х2М1Ф, 40ХН, 40ХН2МА, 38Х2Н2МА, 38ХН3МА, 38ХН3МФА, 34ХН1М, 34ХН3МА, 38ХС, 12ХН3А, 12Х2Н4А, 15Х2НМФ-Ш, ШХ15, АБ2-ПК, 14Х2ГМР, 55Х, 12Х2НВФА (ЭИ712) 

and others

Tool steel 
9Х1, 5ХНВС, 6ХВ2С, 4Х5МФ1С-Ш, 5ХНМ, У8A 

and others

Stainless

steel

08-12Х18Н10Т, 20Х13, 40Х13, 14Х17Н2, 09Х17Н 

and others

Heat resistant and heat-proof steel 
ЭП 609-Ш, ЭИ 961-Ш, ЭП 517-Ш 

and others
Back to section